When choosing an amplifier whether it be tube or solid state you always wonder if your decision will hold the test of time. The M156 tube monoblocks will validate your choice for a lifetime, thanks to painstaking engineering and superlative audio reproduction.

The Eastern Electric M156 monoblock amplifiers deliver 160 watts each of pure tube power. Each amp has its own dedicated power supply, providing complete isolation between each channel. The M156 creates pure, isolated, clean power for the ultimate listening experience.

Only tube amplifiers provide the warmth in voices that bring the performance to your listening room with palpable dimensions. The layering and depth of the M156's soundstage will present the recorded venue in all of its glory, right before you? Instrumented musicians are defined in separate positions throughout the placement of your speakers and beyond.

Our M156 monoblock amplifiers will startle you with their clarity, extension of the frequencies at both ends of the spectrum. The bass will grab hold of the bottom end with grip and tautness unlike any other amp you have heard.

The midrange is where the EL156 tubes have superiority to all others. Glorious would be a correct description, no added coloration just pure midrange tones. When the music calls for notes to be replicated the amplifiers will overwhelm you with ecstatic joyous pleasure. Our Capacitor Upgrade takes the midrange even farther into the realm of reality.
With 4,8,and 16 ohm taps on the rear of the amplifier they will drive any speaker on the market today with authority and finesse.
Why settle for anything less then the ultimate in tube amplification?


Specifications


M156 mono block power amp Specification
Power output : 120W RMS (8 ohm)
Frequency Response : 15Hz-35KHz (±1dB)
THD : 0.8% (1W 1KHz)
Input Sensitivity : 1000mV
Input Impedance : 8K
Output Impedance : 4, 8 and 16 ohm
Signal to Noise : 85dB
Gain : 30dB
Power Consumption : 400W
Dimension(WxLxH) : 430mm X 415mm X 200mm
Weight : 24.5 kg



Eastern Electric Audio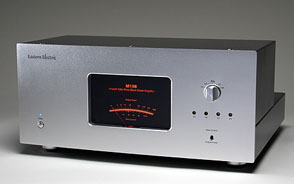 M156 Mono Block Power Amplifier