Eastern Electric Audio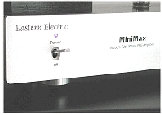 Mini in size, Miniximum in performance. Yes, we could have made it bigger but we believe the shortest signal path is the only route to take. Yes, we could have made a mute switch. Yes, we could have had a remote control, we chose not to. Anything that would degrade the signal has been eliminated which we believe brings the MiniMax Preamp onto a plateau all by itself.
The 3 dimensional soundstage that you can see and hear is archieve by the use of its 6X4 tube rectification. There is direct coupling between the buffer and amplifier stages, with each stage using a single 12AU7 which produces a clarity that adds such realism to musicians performance it is palpable. You do not need to use a matched pair of 12AU7's as any single one will do in either position. Try the different brand and vintage of tubes that were made by the masters in the 40's, 50's and 60's. They say that the refining process of the metal used back then is far superior than even those used today.
Experience what extended frequencies really are. From deep bass notes that delineate the bottom end of a great bass line to the crisp strike of a cymbal to the soft brush strokes on snare skin. Cellos that have that great wood tone or the beauty of a wind instrument and surrounding violins.
In our extensive research in designing this circuit, e auditioned many different combinations of capacitors and resistors and we believe we have found the exact mixture of capacitors from Europe and highest quality audiophile grade components which sets the MiniMax Preamp apart from all other preamps in sheer musical enjoyment. Letting the music touch your heart and soul. Peace of mind knowing you never have to worry again about, is the another product out there that can bring me closer to the music ? We don't believe there is and we will put our MiniMax Preamp up against any chellengers.
Listen for yourself as the MiniMax Preamp will easily create the musical presentation without grain or listener fatigue for those late night listening sessions. Smooth liquid mid range that is like chocolate for the ears. Separate of instruments that is second to none. Soundstaging that bring the recorded performance into your listening room.
We hope that you will consider voting for us in the components of the year for 2007. We know that if you audition one we will ahve your vote.