Eastern Electric Audio

The The Eastern Electric BBA or "The Universal Audio Interface" is the missing link in any chain of audio components. "BBA" stands for "Buffer Booster Amplifier" and is the latest product from Eastern Electric. The design objective of the BBA is to address one of the most difficult and often overlooked issues in High Fidelity audio. Components, even those from the same manufacturer, are "stand alone" devices with their own particular input and output impedances, differing input sensitivities and overload parameters, various output voltage levels, and sometimes with non linear gain characteristics in their volume potentiometers and attenuators. Because of conscious choice, or circumstance, many audiophiles and music lovers have a number of separate components in their audio system.

In fact, one of the joys of being an audiophile is "mixing and matching" components in an everlasting quest to achieve a combination of units that is "just right" in their own system. Music lovers want to cross over the line beyond mere sound reproduction so that they can experience musical magic. Very often, it is actually an electronic mismatch between components that fuels an audiophile's urge to "upgrade" their equipment or is the cause of a music lover's dissatisfaction with the sound they are hearing. Until now it has been a trial and error process to achieve system synergy that transcends the electro-mechanical aspect of sound reproduction.

The BBA is an active device specifically designed to provide an optimal electrical match between any combinations of audio components. It can be used:

Between a CD/SACD/DVD player, Digital to Analog Converter (DAC), Tuner, or phono preamp and the main control preamplifier.
Between the main control preamplifier and a power amplifier.
Between a CD/SACD/DVD player, DAC, Tuner, or phono preamp and a power amplifier without a control preamplifier. (Note: there is just one input)
It has been rigorously tested to ensure that it will work with audio components having input impedances ranging from 100k ohm to as low as 600 ohm, and with input sensitivities varying from under 100mV all the way up to 10V. The BBA can work with power amplifiers with input impedance as low as 600 ohm, which would be a nearly impossible task for most commercial preamplifiers, whether solid state or tube. The buffering circuitry uses two 6BM8/ECL82 combined triode/pentode and one 6X4/EZ90/U707 rectifier tube and has its own active volume control.

The BBA will not alter the overall tonal characteristics of your existing system but it will eliminate dull or dark sounding music reproduction that is missing dynamic contrast and detail. You will be amazed at how this versatile component will open up the sound stage and add vibrancy, emotion, and musicality to your audio experience.

It is a unique solution that belongs in every High Fidelity system.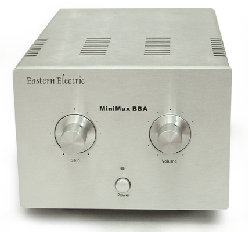 Specifications

Maximum input : 6V
Gain (1KHz) : 0dB to +18dB
Input Impedance : 220K ohm
Output Impedance : 800 ohms íV 10K ohms
Signal to Noise : 95dB to 85dB
THD : 0.1%
Frequency response : 10Hz - 100KHz
Power consumption : 35VA
Measurement : 165 x 127 x 292mm